Blog posts page 2
From time to time we'll be posting articles and other information that we find interesting and that we think many of our visitors such as yourself might find beneficial.
Tuesday, February 14, 2012
I'm always looking for ways to stay on top of my documents and to keep everything organized.
So I just downloaded and installed Insync on my computer. It's like Dropbox but for your Google Docs. It stores a local copy and keeps the files in sync across multiple computers. If you are already using Google Docs, this application may be a good tool for you.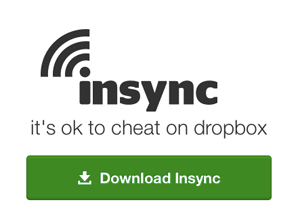 Sunday, February 5, 2012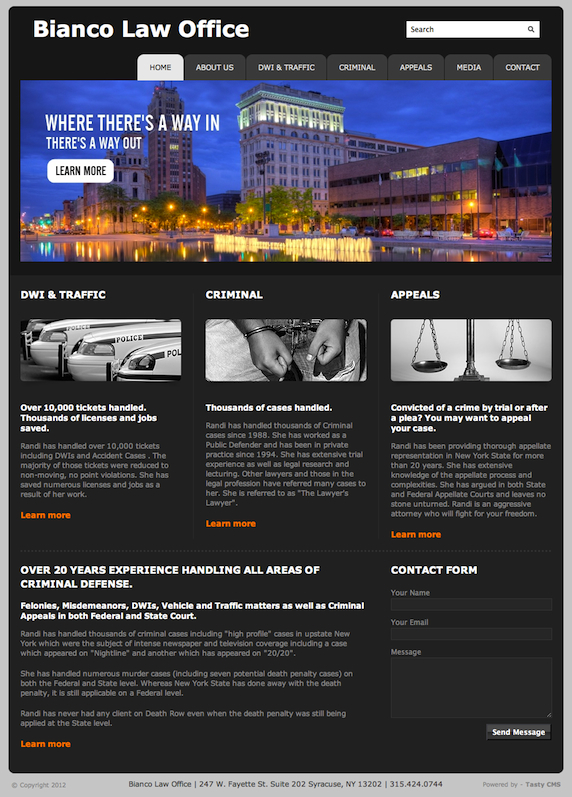 Tasty CMS recently completed work on a new website for Bianco Law, the Syracuse, New York law firm of Randi Bianco. Randi's team approached us to develop a website that would make it easy for potential clients to learn more about the services they provide. They also wanted to make it very simple for visitors of the website to contact them.
We built a very compelling home page with clear navigation to each of the main areas of law that Bianco Law Office specializes in. Along with a large search box in the top-right on every page of the website, it's easy for visitors to find exactly what they are looking for. To steer potential clients onto specific pages we focused on three main call-to-action areas on the home page. With notable images and descriptive text, the call-to-action boxes really stand out.
To make it straightforward for people to contact the office we added the address and phone number to the footer of every page. And to make it even easier to contact Randi we included a brief contact form on all of the pages. We wanted to ensure that no matter what web page you were on contacting the office was the most painless thing you could do.
The website has a soft grey background which frames a dark central area; the light text is easy to read. To help soften the look, strong colorful photos were added into the header.
We invite you to visit their website, take a look around and tell us what you think!

Joe Tolhurst, Bianco Law Office
I really can't say enough good things about the entire experience. Working with Tasty CMS was wonderful. The step by step guidance and quick responses to questions and changes are something you don't see in the web development field these days. By working with Amy & Ed, I am astonished by how quickly we were able to revamp an entire website from start to finish. Kudos to the one on one training as well. It was simple and easy to follow and it took virtually no time at all.
Everything from start to finish was great. The entire process was simple to follow and easy to implement. I would have to say the best part of "Team Tasty" is the flexibility of their time and features of the content management system.
Friday, January 6, 2012
A client emailed us to today and said:
"Just added some content. This is going to be a lot easier than I thought. Tasty CMS is very similar to the CMS I've been using just a LOT EASIER and just like you guys say, that other Content Management Systems come with so many more options than we need!"
Tuesday, December 13, 2011
Well, after a ton of hard work and a lot of late nights, we're so excited to announce the launch of our new web-based service, My Condo Alliance.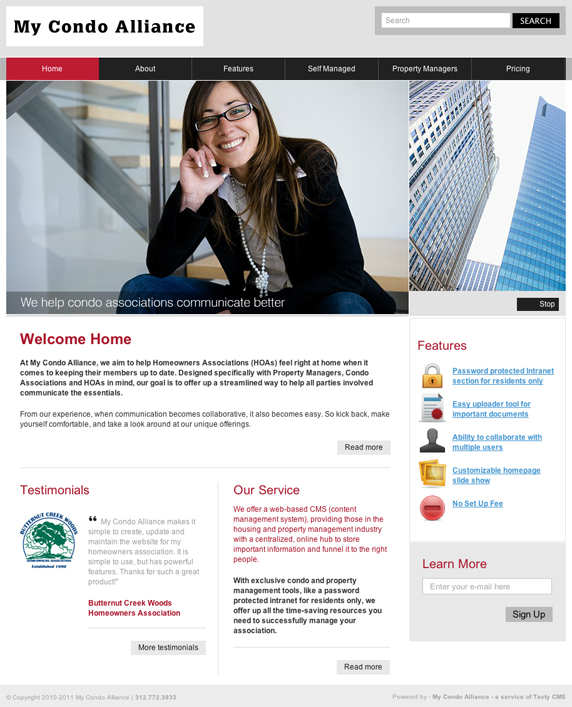 A division of Tasty CMS, My Condo Alliance is designed to provide a collaborative way for Housing Associations (HOAs) and Property Managers to communicate with residents and board members. Our easy-to-update Content Management System (CMS) offers up a centralized, online hub to store important information and funnel it to the right people, which saves everyone involved time and effort.
Some of our unique features and benefits include:
A Residents Only Intranet: Ensure all residents can access essential information with this password protect intranet.
Document module: Store important documents in one centralized space so members can find everything they need in just a few easy clicks. This also means fewer requests flooding your inbox!
An engaged community: Encourage resident involvement by posting ongoing tasks of the association and allowing them to see active, completed and future projects, including contracts and bids online.
More transparency: The ability to publish meeting minutes, bylaws, rules and regulations, move in/ move out procedures, financials and more can help residents feel more in the loop!
Visit our newly launched website to learn more about our time-saving resources and how we can help you successfully manage your association.
Like what you've read? Mention this blog post when signing up for a special rate.
This special introductory offer expires 1/31/2012.
Friday, November 18, 2011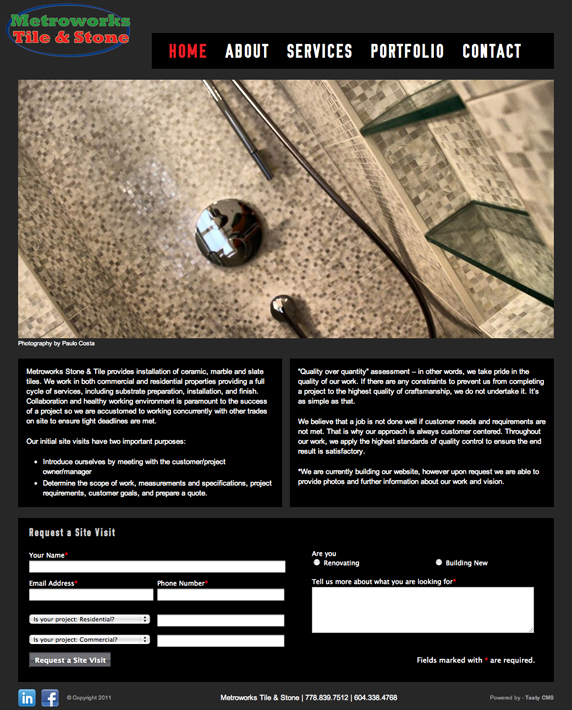 Metroworks Tile & Stone recently approached us for a website design and development project for a brand new website.
Because Metroworks Tile & Stone provides professional installations for both residential and commercial properties, the layout of the homepage focused on displaying high quality pictures of their work. We built a homepage slide show module so that our client has the ability of updating the homepage pictures as new projects are being completed.
We made it easy for website visitors to contact our client by adding a "Request a Site Visit" form in the footer of their website. By placing the form in the footer, this form appears on every page of the website.
The About page has a special layout in that this page is full width and we used a picture of Shawn as the background of the entire page. The text area is floating above the picture on a translucent white background. The white background helps to bring contrast between the text and background so that the content is readable.
For the portfolio section of the website, instead of using our standard Photo Gallery Module that comes with our CMS we installed a custom Multiple Image Uploader Module which will allow our client to upload large batches of photos with just a few simple clicks.
We invite you to visit their website, take a look around and tell us what you think!

Amy and Ed at TastyCMS took our business to a whole new level by building an excellent website for us. It had a huge impact on our business and popularity. The immediate response to it was beyond any expectations.
Amy and Ed worked with us to establish the general concept that conveyed the proper message to our audience. Their patience with all of our requests and changes was admirable. They were always there to help and offer guidance and ideas.
Once the website was built, they trained us on how to update it in the future. They have developed a great system which enables anyone to upload photos, update content, and do it in no time at all. You don't need a web design background to be able to use TastyCMS. It's a simple and easy tool to use. It's brilliant!
We are very thankful for a great experience. We highly recommend TastyCMS and we look forward to a continued relationship with Amy and Ed. Thank you!
Thursday, November 17, 2011
If you're a fan of Apple then you've probably owned a few of the products that they have produced since 1976. To add a bit of nostalgia, the fine folks over at Pop Chart lab are offering up the following graphic in poster form.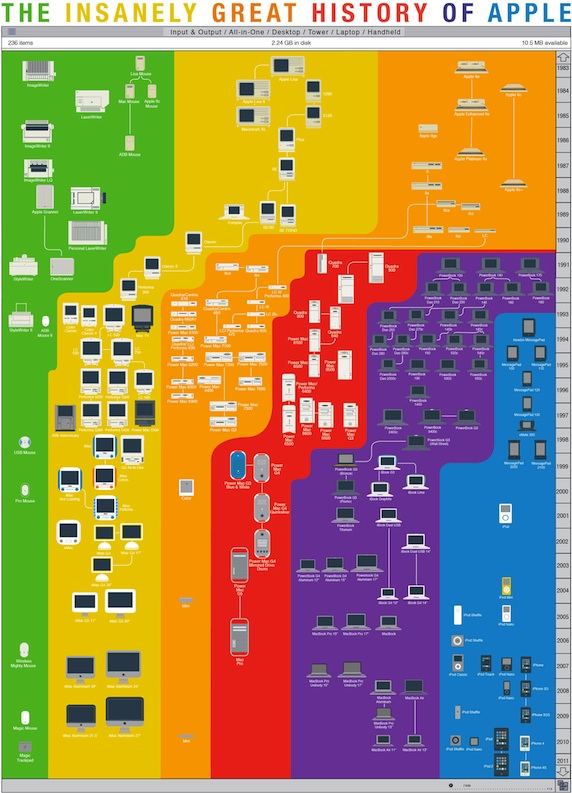 This woud look great on any wall.
**Unfortunately, any true Apple fan will quickly see a number of problems with this poster beginning with the fact that it starts in 1983 completely ignoring the very first product, the Apple I, which premiered in 1976 (not to mention the Apple II is also absent). There's a lot of other important products missing such as the servers and Apple TV. A few of the graphics aren't associated with the right products which adds to the confusion. So while this would look great on any wall, I don't think I'll be hanging it on mine.
---