CD & DVD Recycling
Posted on Monday, May 21, 2012 at 12:38 PM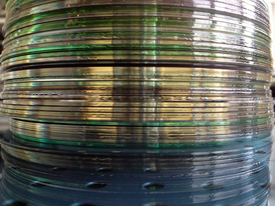 According to the CD Recycling Center of America, "Each year, billions of CDs and DVDs are manufactured, while millions of these discs end up in landfills and incinerators."
Over the years, I had collected unwanted CDs and DVDS with the intention of recycling them so that these discs would not end up in the garbage. I did a little bit of research and I was thrilled when I came across this CD & DVD recycling website.
The CD Recycling Center of America's website makes it very easy for you to recycle your old CDs and DVDs. By clicking on the recycle now page, you can search by state for the best location to mail your discs to.
This service is free of charge except the cost of the shipping box and postage. They do accept donations via PayPal so I made a small donation to support their organization.
This organization works with more than just individuals/households. Below you will find additional programs they offer:
Schools
Libraries
Musicians
Recording Studios
Radio & Television
Duplicators/Replicators
Small Businesses
Recycling companies
For more information about the above categories, please visit the programs page of their website and click on the section that pertains to you.
You can also find the CD Recycling center on Facebook and YouTube.
"When not recycled properly, discs will last forever in a landfill or emit harmful gases into the atmosphere from an incinerator." - CD Recycling Center of America

« Previous PostA Quick Intro to Heading Tags Next Post »Google's SEO Tips For Startups
---