Featured Project: Website Design & Development
Posted on Sunday, February 5, 2012 at 5:41 PM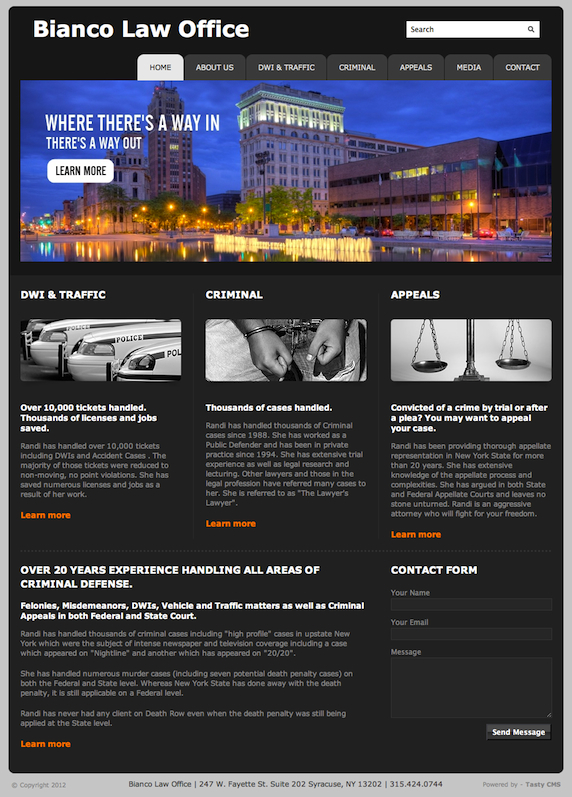 Tasty CMS recently completed work on a new website for Bianco Law, the Syracuse, New York law firm of Randi Bianco. Randi's team approached us to develop a website that would make it easy for potential clients to learn more about the services they provide. They also wanted to make it very simple for visitors of the website to contact them.
We built a very compelling home page with clear navigation to each of the main areas of law that Bianco Law Office specializes in. Along with a large search box in the top-right on every page of the website, it's easy for visitors to find exactly what they are looking for. To steer potential clients onto specific pages we focused on three main call-to-action areas on the home page. With notable images and descriptive text, the call-to-action boxes really stand out.
To make it straightforward for people to contact the office we added the address and phone number to the footer of every page. And to make it even easier to contact Randi we included a brief contact form on all of the pages. We wanted to ensure that no matter what web page you were on contacting the office was the most painless thing you could do.
The website has a soft grey background which frames a dark central area; the light text is easy to read. To help soften the look, strong colorful photos were added into the header.
We invite you to visit their website, take a look around and tell us what you think!

I really can't say enough good things about the entire experience. Working with Tasty CMS was wonderful. The step by step guidance and quick responses to questions and changes are something you don't see in the web development field these days. By working with Amy & Ed, I am astonished by how quickly we were able to revamp an entire website from start to finish. Kudos to the one on one training as well. It was simple and easy to follow and it took virtually no time at all.
Everything from start to finish was great. The entire process was simple to follow and easy to implement. I would have to say the best part of "Team Tasty" is the flexibility of their time and features of the content management system.
---