Blog
From time to time we'll be posting articles and other information that we find interesting and that we think many of our visitors such as yourself might find beneficial.
Monday, February 9, 2015
Knowing which image file type to use isn't always obvious. Most of the time, a JPG or PNG file is perfect for images. But which one should you use? And when? This infographic by KeriLynn Engel of Who Is Hosting This should hopefully clear up a lot of confusion.
Source: WhoIsHostingThis.com
Monday, December 15, 2014
Aaron Draplin Takes On a Logo Design Challenge
Aaron Draplin, owner of Portland based Draplin Design Co., takes on a logo design challenge. Starting with simple ideas and quick sketches in a notebook, Aaron talks through his process as he explains how and why he's doing what he's doing.
If you want to feel inspried have look at this very well produced video.
Monday, December 8, 2014
Wikipedia is something special. It is like a library or a public park."

- Jimmy Wales
Wikipedia Founder
We agree. Would you consider making a donation to Wikipedia this holiday season?

Tuesday, June 10, 2014
Have you ever been viewing a website and wished the text could be a little bit larger? Or maybe you wished you could zoom in a little closer to an image?
In any web browser, hit the following 2 keys to zoom in or zoom out of the screen:
Zoom In
On a Mac, press Command + (plus)
On a PC, press the Windows logo key + (plus)
Zoom Out
On a Mac, press Command - (minus)
On a PC, press the Windows logo key - (minus)
Reset to Original Size
On a Mac, press Command 0 (zero)
On a PC, press the Windows logo key 0 (zero)
These shortcut keys will work in Chrome, Safari and Firefox.
Tuesday, January 14, 2014
Today's An A List Apart article titled Writing is Thinking describes the struggle that many of us have with writing - whether it's an essay or content for our websites. Author Sally Kerrigan gets right to the point:
Writing is intimidating. There's this expectation of artful precision, mercurial grammatical rules, and the weird angst that comes with writing for other people. You start with a tidy nugget of an idea, but as you try to string it into language, it feels more like you're pulling out your own intestines.
Good writing is like a good conversation. And while chatting with someone can be fun, it often fails to get to the point and it can feel like rambling.
You want to be a friend to your readers here, in the sense that you want to respect their time and attention. Except in rare literary circles, there's no good reason to make your readers work hard just to understand what you're trying to say.
The entire article is worth the read as it provides an excellent way of approaching writing as an exercise that over time gets easier and better.
Friday, March 29, 2013
It looks like Disqus added a new feature called "Discovery". This feature will pull in either external links to your Disqus comments area or pull in links to other pages of your website.
The Discovery box is our latest discovery feature in Disqus. It is a native place for users to find new discussions, stories and other content on your site and from other sites across the web.
You can read "Introducing Promoted Discovery and F.A.Q." here.
You cannot control the links that Disqus pulls in. If you are not interested in having links to third party websites in your Disqus comments area, you will need to deactivate this feature by logging into your Disqus Account and then following these steps:
Login to your account
In the upper right hand corner, click on the Admin tab
Click on Settings
Click on the Discovery Tab
Select "Just comments"
Scroll down to the bottom and click the "Save" button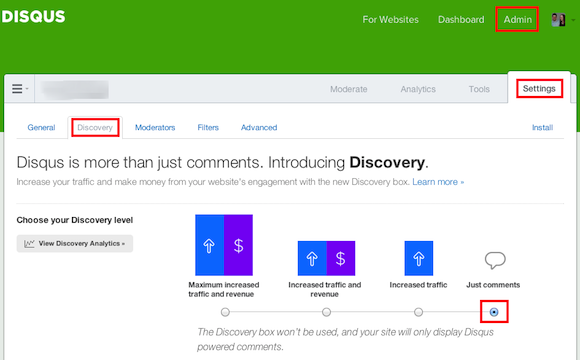 ---